Meet our 2021 Writers, Musicians and Interviewers
MARGARET ATWOOD
Margaret Atwood, whose work has been published in more than 45 countries, is the author of more than 50 books of fiction, poetry, critical essays, and graphic novels. Dearly, her first collection of poetry in over a decade, was published November 2020. Her latest novel, The Testaments, is a co-winner of the 2019 Booker Prize. It is the long-awaited sequel to The Handmaid's Tale, now an award-winning TV series. Her other works of fiction include Cat's Eye, finalist for the 1989 Booker Prize; Alias Grace, which won the Giller Prize in Canada, and the Premio Mondello in Italy; The Blind Assassin, winner of the 2000 Booker Prize; The MaddAddam Trilogy; and Hag-Seed. She has received numerous awards, including the Peace Prize of the German Book Trade, the Franz Kafka International Literary Prize, the PEN Center USA Lifetime Achievement Award, and the Los Angeles Times Innovator's Award. She lives in Toronto.
KEVIN BLACKMORE
Raised in Gander, Newfoundland, Kevin Blackmore suffered identity issues, being a bayman in the wrong place. He moved to Glovertown and got better. He has been a professional entertainer and musician for 47 years. His notoriety comes largely from his ensemble of 38 years, Buddy Wasisname and the Other Fellers. The trio formed in 1983 and began touring nationally in 1989. They have made 20 albums and four full-length videos and appeared in over 360 towns and cities all over Canada. Their efforts have won them the Medal for Cultural Achievement from the Government of Canada and Honorary Doctorates from Memorial University. Now retired from national touring, the group continues to entertain at home. Kevin is active with volunteer efforts at the Diamond House, a small public art and performance facility in his hometown. He claims to be a visual artist working primarily now in acrylic paints, is an avid gardener and an enthusiastic hiker, walker, angler and a very poor hockey player. Since the pandemic began, he has been building an extension on his workshop.
MEGAN GAIL COLES
Megan Gail Coles is a graduate of Memorial University of Newfoundland, National Theatre School of Canada and University of British Columbia. She is the Co-Founder and Artistic Director of Poverty Cove Theatre Company for whom she has written numerous award-winning plays. Her debut short fiction collection, Eating Habits of the Chronically Lonesome, won the BMO Winterset Award, the ReLit Award, the Margaret and John Savage First Book Award and earned her the Writers' Trust of Canada 5×5 Prize. Her debut novel, Small Game Hunting at the Local Coward Gun Club, was a finalist for the Scotiabank Giller Prize, a contender for CBC Canada Reads and recently won the BMO Winterset Award. Originally from Savage Cove on the Great Northern Peninsula of Newfoundland, Megan lives in St. John's where she is the Executive Director of Riddle Fence and a PhD candidate at Concordia University. Megan's debut poetry collection, Satched, is forthcoming from House of Anansi.
EVA CROCKER
Eva Crocker is a freelance writer and PhD student whose debut novel All I Ask was longlisted for the 2020 Giller Prize and won the 2020 BMO Winterset Award. Her short story collection Barrelling Forward won the Alistair MacLeod Award for Short Fiction and the Canadian Authors Emerging Writer Award. Crocker was a finalist for the 2017 Dayne Ogilvie Prize for LGBTQ Emerging Writers and lives in St. John's.
MICHAEL ENRIGHT
Michael Enright's varied and celebrated journalistic career has spanned more than 50 years, during which he has held key positions in Canadian media. He has hosted many of CBC Radio's flagship programs; This Country in the Morning, As It Happens, This Morning and currently, THE SUNDAY EDITION. He was managing editor of CBC Radio News, and held editorial positions with publications such as Time and Quest magazines. At Maclean's, he oversaw the magazine's shift from a monthly to a weekly publication. He was a political writer for The Toronto Star and Washington correspondent for The Globe and Mail. A high school dropout, he received a Southam Fellowship for Journalism in 1979, and studied Chinese history. In 2012, he was awarded an Honorary Doctorate from York University, and the Order of Canada. In 2014, he was awarded an Honorary Doctorate from Memorial University in Newfoundland.
CLARE FOLLETT
Clare Follett is a Canadian singer, songwriter, and producer based in St. John's, Newfoundland. Clare broke onto the music scene at a young age, releasing her debut album, "Neck Deep" at 15, and her sophomore album, "Reclamation" at 18. Over the course of her solo career, she has received five MusicNL nominations, one MusicNL award, and four Newfoundland and Labrador Arts & Letters awards for her songwriting. She was also selected as an ECMA Break Out Artist in 2018. Clare has worked with several artists as a producer, side musician, session bassist, and session vocalist. However, Clare shines most brightly as a solo artist. Her music is a compelling mix of light synths, heavy guitars, and thick harmonies that are well suited to the pop, rock, and alternative genres.
JENNIFER GUY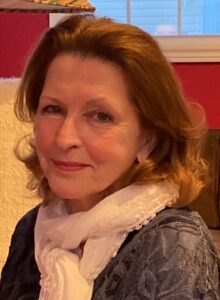 Jennifer has been involved with Winterset in Summer for over two decades. She was a founding board member since the festival's inception in 2001 through to 2018. She was also part of the small team of women who worked with Richard Gwyn in Toronto in 2000 to raise funds for the Winterset Awards, now the BMO Winterset Awards. She is thrilled to see the growth and success of the award and the festival as a forum to celebrate and nurture literary arts in Newfoundland and Labrador. 
JOEL THOMAS HYNES
Joel Thomas Hynes is a writer and performer from Calvert, Newfoundland. He has authored numerous books, stage plays and feature films and is the creator of the award winning CBC comedy series Little Dog. Hynes' most recent novel, We'll All Be Burnt in Our Beds Some Night, won the Governor General's Award for Fiction, the BMO Winterset Award and the NL Writer's Alliance Award for Fiction. As an actor, he has held lead and principle roles for numerous films and TV series including Cast No Shadow, Orphan Black, Little Dog, Mary Kills People, Body and Bones, Book of Negros and Trickster. He is a graduate of the Canadian Film Centre's Screenwriter's Lab. Also a musician, Hynes's most recent studio album Dead Man's Melody is available across all online platforms including Apple Music and Spotify. Hynes lives between St. John's and Toronto and is currently studying for an MFA at the University of King's College in Halifax.
DON MCKAY
Don McKay is an award-winning poet and essayist. His poetry collections include two Governor General's Award winners—Night Field (1991) and Another Gravity (2000)—while Strike/Slip (2006) won the Griffin Poetry Prize. He won the Winterset Award for The Shell of the Tortoise: Four Essays and an Assemblage (2012). His most recent book is All New Animal Acts (mostly essays), which was published in 2020. He lives in St. John's.
JIM PAYNE
Jim Payne is an award-winning performer and collector of Newfoundland traditional music, as well as one of the province's most prolific songwriters. A multi-instrumentalist and singer who has performed on six continents, he owns and operates his record label, SingSong Inc, which has released over 40 titles reflecting the Newfoundland and Labrador experience. A producer with a string of recording credits, Jim is a veteran of Rising Tide Theatre's annual Revues and teaches courses in traditional music and song at Memorial University's School of Music. He has also been involved in an ongoing 35- year project with Wren Music of Devon, UK, documenting the extensive historical and cultural links between our province and the West Country of England. From Notre Dame Bay, Newfoundland, Jim received the ECMA's Stompin' Tom Connors Award for contributions to the cultural fabric of eastern Canada, as well as Arts NL awards for Education and Arts Achievement and was inducted into its Hall of Honour in 2016. He was one of five songwriters, and the only one from North America, to be invited to present at a symposium in Kagoshima, Japan, featuring artists whose original material becomes part of local tradition.
ROGER PICKAVANCE
Born and raised on the Welsh Borders, Roger Pickavance came to Newfoundland more than half a century ago to take up a position as a biologist at Memorial University. Now retired, he has spent much of his life talking about food, reading about food, and cooking and eating food. Roger is the author of three cookbooks, including The Traditional Newfoundland Kitchen, nominated for the 2018 Heritage and History Book Award. From Rum to Rhubarb: Modern Recipes for Newfoundland Berries, Fruits and Vegetables is his latest.
BERT RIGGS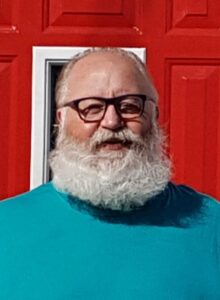 Bert Riggs is a retired faculty member of Memorial University, where he served as Head of Archives and Special Collections in the Queen Elizabeth II Library and taught in the Department of English. He is a graduate of both Memorial University (BA (Hons), BEd, MA) and the University of Toronto (MISt). Bert has been involved in the volunteer sector for many years, including as Chair of the Resource Centre for the Arts, President of the Newfoundland Labrador Human Rights Association, President of the St. John's Folk Arts Council, and as a Member of the Board of the Law Society of Newfoundland and Labrador, the Community Sector Council of Newfoundland and Labrador and the Newfoundland and Labrador Human Rights Commission. He lives in St. John's.
PAUL ROWE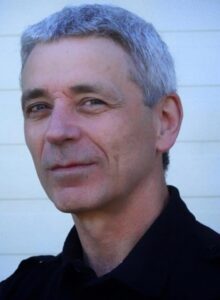 Paul Rowe has been a part of the artistic scene in Newfoundland and Labrador for more than thirty years. He has worked as theatre critic for the CBC, written plays that have been produced in French and English, performed numerous roles in both languages, directed and performed in Shakespeare's plays, worked at the Stratford Festival of Canada, toured with Artistic Fraud, published two novels, acted in film and television, wrote and annually performs a popular one-man show called Fleming. Paul was short-listed both for the Winterset Award and the Newfoundland and Labrador Heritage Award for his first novel The Silent Time (2007). Paul's second novel The Last Half of the Year won the Winterset Award in 2017.  
SARA TILLEY
Sara Tilley (she/her) is a multidisciplinary artist from St. John's, Newfoundland and Labrador, living and working on Ktaqmkuk, the unceded, traditional territory of the Beothuk and Mi'kmaq. Sara's artistic work bridges writing, theatre, Pochinko Clown Through Mask technique and puppetry. She holds a BFA in Acting from York University and founded the feminist theatre company, She Said Yes!, which she ran as Artistic Director, 2002-2016. She received the Rhonda Payne Theatre Award in 2006, which acknowledges the contribution of a woman working in theatre in the province. Sara has written, co-written or co-created eleven plays to date. Skin Room, her first novel (Pedlar Press, 2008), won both the Newfoundland and Labrador Percy Janes First Novel Award and the inaugural Fresh Fish Award for Emerging Writers, and was shortlisted for the Winterset Award and the Thomas Raddall Atlantic Fiction Prize. Her second novel, Duke (Pedlar Press, 2015), won the BMO Winterset Award and the NL Heritage and History Award and was shortlisted for the NL Book Award for Fiction. Sara won the Lawrence Jackson Writer's Award from the Newfoundland and Labrador Arts Council in 2011. For more information, visit saratilley.ca.
MARIAN FRANCES WHITE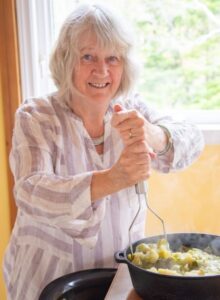 Marian Frances White works across many genres. Her published works include ten editions of A Woman's Almanac, Voices of Newfoundland and Labrador Women (1987-1992), and A Woman's Almanac, Voices of Atlantic Canadian women (1993-1996). She has published three poetry collections, the biography Not A Still Life, the art and writings of artist Rae Perlin and the young adult History of Newfoundland and Labrador. In 2005, Sights Before Christmas, which White co-authored with Beni Malone, became one of the bestselling children's books in Canada; in 2018, she produced a TV Christmas Special based on the book. Her documentary films include The Untold Story of the Suffragists of Newfoundland, Stealing Mary: Last of the Red  Indians, and Tricksters. In 2019 she completed Circus By Komatik, a documentary shot in Northern Labrador of Inuit children involved in creating a show with Wonderbolt Circus. Island Vegan, published by Breakwater Books in 2019, celebrates White's 40+ years as a vegan and took the International Gourmand Cookbook Award for local flare.